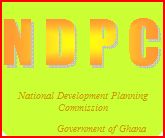 Job Summary
Company:
National Development Planning Commission (NDPC)
Categories
Job Vacancy At National Development Planning Commission (NDPC)


The National Development Planning Commission is a constitutional body created by articles 86 and 87 of the 1992 Constitution of the Republic of Ghana and established by The National Development Planning Commission Act, 1994 (Act 479). Its function is to advice the President of Ghana on national development planning policy and strategy. The commission also coordinates and regulates the decentralized national development planning system in accordance with the National Development Planning System Act, 1994 (Act 480).

In pursuance of its objects, the commission seeks to recruit suitably qualified Ghanaians who are goal oriented and results driven with excellent leadership qualities for appointment to the under-listed vacant senior positions in the commission

1. Director, Development Policy Division
2. Director, Plan Coordination Division
3. Director, Monitoring and Evaluation Division
4. Director, General Services Devision
5. Deputy Director, Development Communication
6. Deputy Director, Spatial and infrastructure policy
7. Deputy Director, Environmental Policy

Detailed descriptions and specific requirements of the job positions as well as further information on the  mandate and functions of the National Development Planning Commission can be obtained from its website: www.ndpc.gov.gh

How To Apply For The Job:

Qualified candidates should forward their application together with supporting documents, a statement of the applicant's vision of the position applied for, curriculum vitae, office and mobile phone numbers, e-mail address and e-mail addresses of three referees.

The Director-General,
National Development Planning Commission (NDPC)
13 Switch Back Road, Cantonments,
P.O. BOX CT 633
Accra-Ghana

Or

Electronic Applications should be e-mailed to:

info@ndpc.gov.gh

Closing Date: 20th June, 2012

As an equal opportunity employer the NDPC particularly welcomes applications from qualified women and persons with disability.