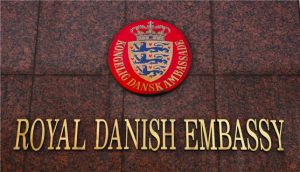 The Royal Danish Embassy works to strengthen the relations between Denmark and Ghana, manages official Danish-Ghanaian development co-operation, promotes trade, and provides efficient passport and consular services.
Job Summary
The Danish Embassy seeks a Programme Officer to join the Business Team. The Programme Officer will primarily focus on assisting the implementation of the Danida facilitated Support to Private Sector Development, Phase II (SPSD II) which seeks to promote a private sector that is creating jobs and enhancing livelihoods for all.
Responsibilities will among others include visits to implementing government and private partners to monitor progress; review of work plans, budgets and reports; planning of new activities; participating in policy dialogue with other development partners; drafting of Terms of Reference for consultants and contract management
The Programme Officer will work closely with the SPSD II Co-ordinator and other colleagues in the Business Team in charge of Danida Business Partnership and Finance facilities, the Investment Fund for Developing Countries and other trade/commercial related issues
Qualification Required & Experience
Profile of Programme Officer:
•  Academic degree in economics, business administration, finance development studies or related field
•  At least two years of experience from the private/financial sector, with exposure from work with international organisations and local government authorities;
•  Experiences from working with local SME's will be an advantage;
•  Ability to facilitator and participate in multi-cultural stakeholder meetings;
•  Proven good analytical and communication skills;
•  Ability to work in teams as well as independently;
•  Excellent in spoken and written English
Location: Accra
How To Apply For The Job:
Please visit: http://ghana.um.dk/ for general information about Danish Development Co-operation in Ghana and for a full Job Description.
Please send your application and CV to:
Or to:
Royal Danish Embassy
67 Dr Isert Road
North Ridge
P. O. Box CT 596
Accra, Ghana
Closing Date: 31 January 2013
Only shortlisted candidates will be contacted. Late applications will not be accepted.