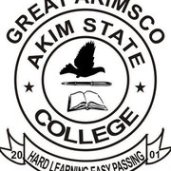 Job Summary
Company:
Akim State University College
Category:
Human Resources / Admin
Categories
Job Vacancy For Administrative Officers At Akim State University College (Akim Oda)


Akim State University College is a new tertiary institution being established to take off by October/November 2012 in Akim Oda, Eastern Region. The University College is now seeking accreditation. According to the rules, the College must have lecturers and other auxiliary staff and be affiliated to a University that has a Charter before accreditation is granted.

Our philosophy is to establish and maintain an environment that will result in a never-ending improvement in the delivery of quality and internationally recognized education in the nation.

Our mission is to provide good and quality affordable and accessible education at the highest value to all concerned.

Our vision is to provide the highest quality of education at the tertiary level thereby contributing significantly to the socio-economic needs of Ghana and the world as a whole.

To achieve this, we shall always strive to build a work environment for our cherished employees where each person is valued, respected and has opportunity for personal and professional growth.

Description Of Job

In line with our vision and mission, the University College invites applications from suitably qualified applicants to fill the above vacancy and contribute their quota to this noble dream of the institution.

Qualification Required & Experience

Qualifications:

Minimum qualification should be First Degree in any Business related discipline with not less than Six years working experience

How To Apply For The Job

Interested applicants should apply to:

The Chairman
The Governing Council
Akim State University College
P.O. Box DA 908
Akim ODA

Note: Applicants should include: CVs, Photocopies of certificates, three referees, and any other relevant documents.

Closing Date: 9th August, 2012

Those applying for the post of Registrar should include their vision for the University College in not less than two pages.