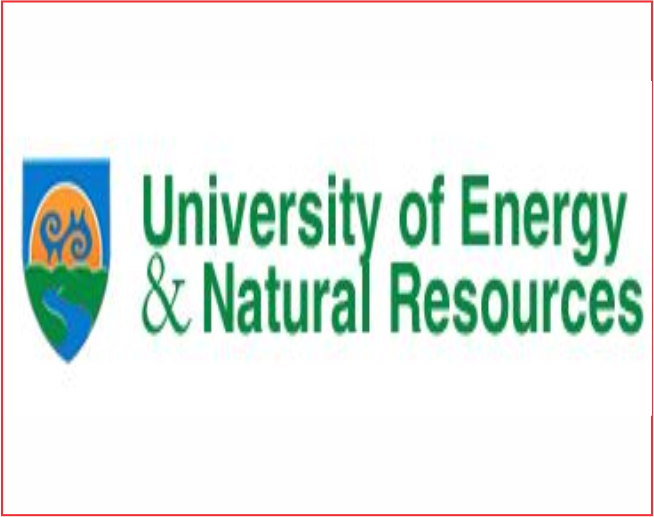 Job Summary
Company:
University of Energy and Natural Resources (UENR)
Category:
Education / Training
Categories
Job Vacancy For Associate Professors


The University of Energy and Natural Resources (UENR) was established by an Act of Parliament, 2011, (Act 830). The University is a public funded national institution which seeks to provide leadership and management of energy and natural resources and be a centre of excellence in these critical areas.

The University approaches its programmes and research by emphasizing interdisciplinary collaboration and taking into account areas such as economics, law and policy, management, science, technology and engineering as well as social and political issues that affect energy and natural resources.

The University of Energy and Natural Resources operates a multi-campus system, currently in Sunyani and Dormaa Ahenkro; plans are underway to start the Nsoatre and Kenyase campuses. Successful applicants of any of the following positions in the University should be willing to reside in any of these locations.

Teaching Positions: Associate Professors

SCHOOL OF SCIENCES

Required academic disciplines
• Computer Science, Information Technology, Mathematics, Statistics, Actuarial Science, Insurance, Biological Science, Biochemistry, Chemistry and Physics.

SCHOOL OF ARTS AND SOCIAL STUDIES

Required academic disciplines
• Resource Enterprise and Entrepreneurship, Enterprise Management, Economics and French.

SCHOOL OF AGRICULTURE AND TECHOLOGY

Required academic disciplines
• Crop Science (Entomology, Agronomy, Postharvest Technology), Horticulture, Animal Production, Agribusiness, Agricultural Economics and Food Science and Technology.

SCHOOL OF NATURAL RESOURCES

Required academic disciplines
• Forest Science and Environmental Governance, Environmental Management, Fire and Disaster Management, Ecotourism, Recreation, Hospitality, Fisheries and Water Resources.

SCHOOL OF ENGINEERING

Required academic disciplines
• Mechanical and Manufacturing Engineering, Agricultural Engineering, Computer Engineering, Electrical and Electronic Engineering, Civil Engineering, Environmental Engineering, Renewable Energy Engineering, Petroleum Engineering.

SCHOOL OF GEOSCIENCES

Required academic disciplines
• Planning and Sustainability, Environmental Planning and Development, Geoinformation Science, Geology, Climate Change and Sustainable Development.



Qualification Required & Experience

A person seeking appointment as an Associate Professor must:

• show evidence of outstanding performance in teaching, research and industry-related innovations in the candidate's subject area;
• have been appointed as an Associate Professor in the relevant discipline in an accredited tertiary institution in Ghana or elsewhere;
• possess a PhD in the relevant field of specialization;
• demonstrate evidence of continuous research and dissemination of knowledge through technology transfer and publication;
• have a minimum of fourteen (14) publications in reputable and highly ranked peer reviewed journals indexed in Scopus and other reputable academic databases; at least eight (8) of these publications must have been published after promotion to the rank of Senior Lecturer;
• have served at least four (4) years at the rank of Senior Lecturer in his/her current institution;
• provide evidence of other research, professional activity, invention and innovations. Membership of relevant professional bodies is an added advantage.

Location: Sunyani

How To Apply For The Job

All applications should reach the Registrar not later than FRIDAY, DECEMBER 11, 2020 through the following address:

The Registrar
University of Energy and Natural Resources
P. O. Box 214
Sunyani, Ghana

Closing Date: 11 December, 2020

Only shortlisted applicants would be called for interviews.