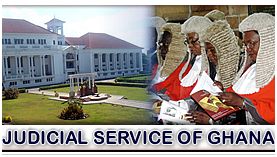 Job Summary
Company:
Judicial Service of Ghana
Categories
Job Vacancy For Cyber Security Engineer


The Judicial Service of Ghana invites applications from suitably qualified persons for the following vacant position: Cyber Security Engineer

Successful candidates will be required to perform the following duties:

• Safeguard information system assets by identifying and solving potential and actual security problems
• Protect systems by defining access privileges, control structures and resources.
• Recognize problems by identifying abnormalities, reporting violations Implement security improvements by assessing current situation, evaluating trends, anticipating requirements.
• Determine security violations and inefficiencies by conducting periodic audits
• Upgrade system by implementing and maintaining security controls.
• Keep users informed by preparing performance reports and
• communicating system status Maintain quality service by following organisation's standards.
• Maintain technical knowledge by attending educational workshops and reviewing publications Contribute to team effort by accomplishing related results as needed.

Qualification Required & Experience

• Academic Certificate: A Bachelor's Degree (B.Sc, B.Eng. B.Tech) in Computer Science, Engineering, Information Technology.

Location: Accra

How To Apply For The Job

NB: Candidates must show evidence of completion of National Service.

Applications should be directed to the address below:

The Judicial Secretary
Judicial Service Headquarters
P. O. BOX 119
Accra

Closing Date: 19 January, 2021

Prospective applicants should note that the Judicial Service does not use recruitment agencies, individuals, or internet sites in its recruitment process.