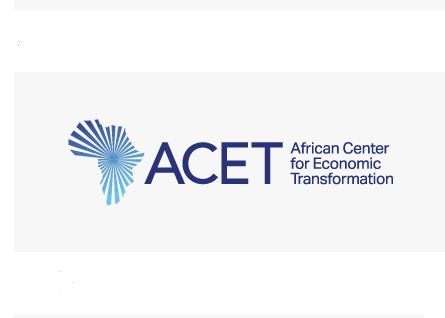 Job Summary
Company:
African Center for Economic Transformation (ACET)
Category:
NGO / International Agencies
Categories
Job Vacancy For Manager – ACET Business Transform


ACET Background

The African Center for Economic Transformation (ACET) is an economic policy institute supporting Africa's long-term growth through transformation. We produce research, offer policy advice, and galvanize action for African countries to develop their economies, reduce poverty, and improve livelihoods for all their people. We are the pre-eminent African organization advancing African solutions to African challenges.

Background and Objective

ACET, with its vision of transforming Africa's economy within a generation has worked with governments and other stakeholders to define and support the transformation agenda of the African continent. In a bid to increase the impact of its activities, ACET has designed the "Strategic Partnership for Private Sector Growth' (SPPSG), which ACET is currently implementing.

The project, supported by the Norwegian Agency for Development Cooperation (NORAD) and the World Bank, aims to support private sector development and growth in the G20 Compact with Africa countries, starting with Ghana. The project is focused on the manufacturing sector, given the relevance of manufacturing to economic transformation and inclusive growth.

However, viable strategic policy decisions and frameworks are needed to ensure that the sector grows and develops in a manner that creates new jobs and higher incomes; encourages skills development, export promotion, and diversification; and enhances productivity, competitiveness, and value addition.

To support this agenda, the ACET programme will focus on three work streams;

• Promote the development of Sustainable Export Processing Zones (SEPZ) aligned with the 1R1P policy of the Government of Ghana;
• To support integration of local content SMEs into the global supply and value-chains of large enterprises aligned with the 1D1F policy; and
• Linking the LC-SME and SEPZ programs

Scope of Work

• In driving workstream 1, ACET designed its maiden private sector direct SME support program called the ACET Business Transform (ABT) comprising of accelerating LC-SMEs and incubating new SMEs to be investment ready and also shore up their capabilities produce at high standards and be able to integrate into global value chains. The ACET Business Transform is currently running in Ghana with the first cohort of companies undergoing technical assistance.
• SMEs within the first cohort have undergone a comprehensive diagnosis of their operations and a report covering the findings and recommendations have been produced. In addition, the SMEs have gone into a strategy session to agree on key priority interventions to resolve most of the issues and also to drive the growth and transformation agenda leading to making them investment ready and readying them to take advantage of opportunities within the value chains they operate.
• The ACET Business Transform is also being implemented in Rwanda and soon in Liberia where country program coordinators will be responsible for ground implementation.
• The role of the manager to oversee the implementation in Ghana as well as support and supervise for the country coordinators are required.

Job Title Manager-ACET Business Transform
Reporting Line Head, Private Sector Development
Location Accra

Job Summary

• Reporting to the Head- Private Sector Development (PSD), the ACET Business Transform (ABT) Manager will be responsible for the general management of the ACET Business Transform which comprises both the accelerator and incubator programs. The ABT Manager is a deputy to the Head-PSD and will have additional responsibility for supervising the work of Country Program Coordinators for the ACET Business Transform.

Specific Responsibilities

Specifically, the ABT Manager will be directly responsible for the management of the program by performing the following functions;

• Manage the development plans of a portfolio of SMEs undergoing capacity and business development under the ACET Business Transform program;
• Work with technical experts and mentors to deliver capacity development agenda for the SMEs – Coaching, Mentorship, Technical Assistance, Managerial Support, Investment Readiness and Investment Advisory workstreams;
• Track and monitor the development process by highlighting key learnings and challenges unique to the portfolio being managed and specific companies;
• Review and update the program content;
• Develop and manage a monitoring, evaluation, research and learning plan;
• Oversee the quality and risk management of the program;
• Work with other PSD staff to deliver on common areas under the overall program;
• Any other tasks to be allocated by the Head – PSD and ACET senior management where required.

Qualification Required & Experience

Education/Experience

• Master's Degree in Business Administration, Management, Social Sciences or relevant degree;
• A minimum of 7 years relevant work experience in a commercial entity, management consulting or advisory firm;
• Relevant experience of Private Sector Development in both policy and implementation capacities.
• Considerable experience in managing an accelerator or incubation program;
• A qualification/certification or strong experience in project management and reporting.

Knowledge, Skills, Abilities

• A strong communication, analytical, writing, and interpersonal skills;
• A good understanding on the role MSMEs play in economic transformation and job creation;
• Flexible, adaptable, and able to execute a range of job duties and changing priorities;
• Ability to work under pressure to deliver on time with attention to detail and accuracy;
• Demonstrate experience in program design and management, focusing on enterprise development and SME support;
• Ability to work independently and as part of a team;
• Proficiency in Microsoft Office suite.

Desirable

• Entrepreneurial experience is an added advantage.
• Ability to develop scholarly (research) works.

Location: Accra

How To Apply For The Job

Interested applicants should email their CV and an accompanying Cover Letter explaining why you are the most suitable candidate for the position to

hr@acetforafrica.org

Closing Date: 30 June, 2022

Kindly note that only shortlisted candidates will be contacted.