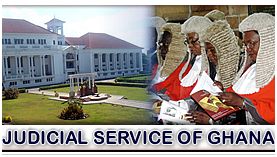 Job Summary
Company:
Judicial Service of Ghana
Category:
Security / Law Enforcement
Categories
Job Vacancy For Security Officer


The Judicial Service of Ghana invites applications from suitably qualified persons for the position of Security Officer.

Duties / Responsibilities

• Inspect and patrol premises regularly.
• Monitor property entrance.
• Report any suspicious behaviours and happenings.
• Secure all exits, doors and windows.
• Monitor surveillance cameras.
• Undertake surveillance of court and administrative premises and residential. facilities.
• Respond to alarms and reach. in a timely manner.
• Provide assistance to people in need.
• Submit a report of daily surveillance activity.
• Perform any other duty that may be assigned from time to time.

Qualification Required & Experience

• West African Secondary School Certificate Examination (WASSCE) with at least six (6) passes.
• Good interpersonal skills
• Knowledge of security operations and procedures.
• High level of integrity.
• Should be physically fit.
• Should not be more than 30 years.

Location: Accra

How To Apply For The Job

Applications should be directed to the address below:

The Judicial Secretary
Judicial Service Headquarters
Post Office Box 119
Accra

Closing Date: 19 November, 2021

NB: Prospective applicants should note that the Judicial Service does not use recruitment agencies, individuals, or internet sites in its recruitment process.