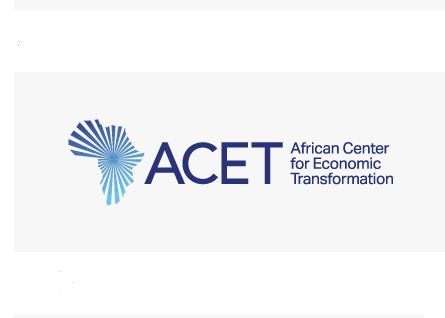 Job Summary
Company:
African Center for Economic Transformation (ACET)
Category:
NGO / International Agencies
Categories
Job Vacancy For Senior Gender Economist


About ACET

The African Center for Economic Transformation (ACET) is an economic policy institute supporting Africa's long-term growth through transformation. We produce research, offer policy advice, and galvanize action for African countries to develop their economies, reduce poverty, and improve livelihoods for all their people. We are the pre-eminent African organization advancing African solutions to African challenges.

In 2021, the ACET Board of Directors approved a new 2021 – 2025 Strategy with 5 components. Gender Equity/Equality in Economic Transformation is one of the five pillars in the strategy. ACET is recruiting a senior gender economist to lead ACET's gender and economic transformation portfolio

Job Title: Senior Gender Economist
Reporting Line: The Executive Vice President & Director of Policy & Programs.
Location: Accra/Remote

Job Summary

The Gender Economist will lead ACET's work on gender equality and economic transformation and support other ACET teams to embed a gender lens across the portfolio.

Roles and Responsibilities

Specifically, the Senior Gender Economist will:

• work with the EVP and ATR4 advisory group to develop ACET's flagship African Transformation Report on Gender and Economic Transformation (ATR4). This will include being the internal coordinator for the ATR
• provide intellectual leadership to ACET policy analysis and technical work on gender equality and women's empowerment. This will include the development of a world class gender equality program which delivers high quality analysis and thought leadership on gender equity, equality, women's economic empowerment and other relevant areas that may emerge
• be the principal resource person on gender issues, practices and policies relevant to the project context and activities
• provide high quality analysis and advice on the gender implications of ACET's policy recommendations
• provide training to ACET research teams on how to monitor and assess gender impacts of policy actions across program verticals
• work with ACET partner policy institutes and support them to do gender analysis where necessary
• monitor ACET's work to adequately capture gender equality and inclusion indicators and track impact in collaboration with the M&E team
• training and development of ACET colleagues and coach/mentor junior staff to build technical expertise
• provide a range of analytical, advisory and related services to ACET with respect to the gender dimensions of development
• design and develop programme strategies in the area of Gender equity/equality and economic transformation
• work with the fundraising team to raise funds for the gender portfolio
• serves as ACET's spokesperson on Gender at various forums and with the media
• draft inputs to strategy documents, briefs, policy dialogue and other documents related to Gender Statistics
• any other duties as may be assigned from time to time in support of ACET's mission

Qualification Required & Experience

• Master's degree in gender economics or a related discipline (development studies, political science, sociology, etc.)
• Minimum of 8 years of post-master's experience conducting research and evaluation on gender economics. Experience of doing this in Africa will be an asset. Africa regional experience will be a plus
• Previous experience working on gender equality and/or equity policy in Africa. An understanding of economic transformation will be an ACET.

Knowledge, Skills, Abilities

• Proven skills in research and analysis – demonstrable track record with undertaking desk research, literature reviews, and consolidating findings
• Excellent analytical skills and ability to synthesize complex information in written papers, reports, presentations

Personal

• Excellent interpersonal skills including the ability to liaise and communicate with colleagues at all levels and from different cultures
• Ability to work effectively on own initiative and as part of a team
• Ability to work under pressure to deliver on time with attention to detail and accuracy
• Excellent oral and written communication skills

Location: Accra

How To Apply For The Job

Interested applicants should email their CV and an accompanying Cover Letter explaining why you are the most suitable candidate for the position to

hr@acetforafrica.org

Closing Date: 30 June, 2022

Kindly note that only shortlisted candidates will be contacted.